Polycystic Ovary Syndrome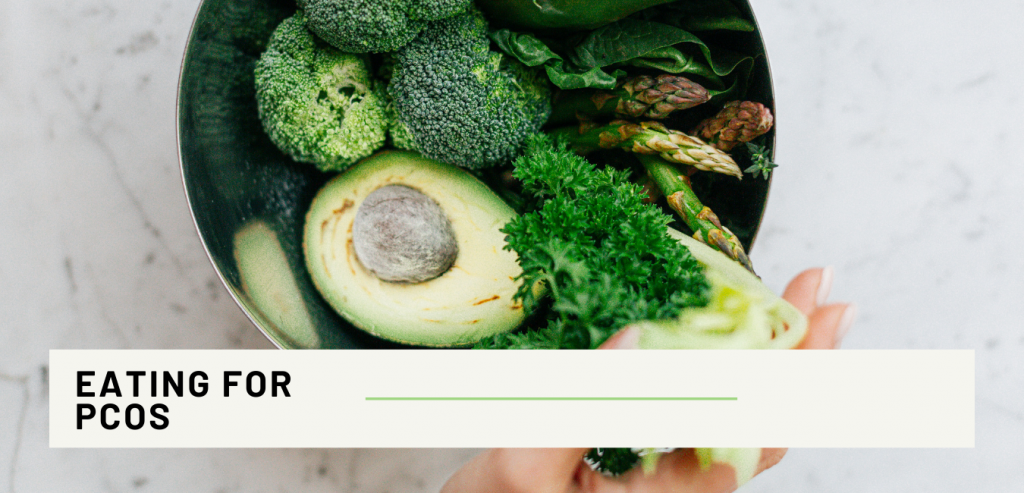 What is PCOS?
PCOS, aka Polycystic Ovary Syndrome, is a serious health condition caused by a hormonal imbalance that increases the amounts of androgens (male sex hormones) in your body and lowers levels of estrogen and progesterone (female sex hormones). (Shkodzik, 2020)
PCOS affects approximately 10% of women. Typically, women notice it during adolescence related to menstrual pain or irregular periods, insulin resistance, and having a higher body fat but sometimes PCOS can go undiagnosed for many years. (Golub S.A. 2020)  PCOS doesn't look the same for every person. For some, it may present with unusual hair growth while for others it may present with gray-ish colored elbows or darkened skin around the neck ( which is a sign of insulin resistance).
How can nutrition impact PCOS
There are a few ways that your nutrition can help with your PCOS symptoms. For one, since PCOS severity is directly influenced by hormonal balance, the key to reducing your symptoms is to improve your hormonal balance. Good news, you can balance your hormones by eating foods high in fiber, with low glycemic load, and by eating small meals more often.
Secondly, there is a strong connection between irritable bowel syndrome (IBS) and PCOS. Research has shown that women with PCOS typically have a less diverse microbiome (gut bacteria) in their gut which can lead to more bloating, cramping, diarrhea, and constipation. 
Here are some foodie-tips that can help ease your PCOS symptoms
Foods to enjoy more: 
Nutrient rich, lower calorie foods

High fiber foods (whole wheat bread, oatmeal, beans, nuts, apples, berries, citrus fruits)

Foods that won't cause a quick change in your blood sugar – and therefore insulin secretion – (green vegetables, lentils and beans, chickpeas, raw carrots, among others)

Small, frequent meals (to reduce insulin response)
Foods to enjoy on occasion (1-2 servings/day):
Processed proteins/meats (may contain added growth hormones which may worsen hormone imbalance) (Klepchukova, 2020)

Low-fat dairy (some studies have said that low-fat alternatives may increase levels of androgens)

Foods or beverages high in refined sugars or high-fructose corn syrup (quickly raises blood sugar and insulin, then can cause a crash leading to increased appetite and cravings) like soda, fruit juice, or candies.
Foods that have a lot of refined sugars may make symptoms worse.

Is weight loss really that helpful in managing my PCOS symptoms?

Long-term, sustainable weight loss has been noted as an important strategy for managing PCOS symptoms. For a long time weight has been regarded as one of the most influential risk factors for worsening PCOS symptoms. This is because decreased body fat also reduces the production of androgens and reduces insulin resistance. 
However, long-term, sustainable weight loss is notoriously the most challenging type of weight loss and short-term weight cycling can be detrimental. Plus, no single diet works for everybody. That being said, the most effective strategy for reaching and maintaining a healthy weight for you is to enjoy a healthful, balanced diet rich in healthy fats, fruits, vegetables, and lean proteins and moderate amounts of whole grains.
Other lifestyle changes that can help manage your PCOS
Regular exercise/movement (releases stress and improves insulin sensitivity)
Smoking cessation: Some studies have found higher androgen levels and lower estrogen levels in women who smoke. (Pau et al., 2013)
Stress relief can also help to reduce PCOS-related symptoms (including IBS which can flare up during times of increased stress)
Limiting caffeine and alcohol
Supplements
Most nutrition-related needs can be met through a balanced diet. Supplements should not be used to replace foods however, in some cases, it may be beneficial to supplement the diet where it may be lacking. The following are some supplements that have been shown to be effective at improving PCOS-related symptoms if they are lacking in the diet. 
It's estimated that nearly 75% of Americans don't get enough magnesium in their diet. (Grassi, 2020) Magnesium is an essential mineral and without it, you may experience more migraine, worsened PMS symptoms, heightened anxiety, and inflammation. Some research notes that magnesium may even help with reducing insulin resistance (a common side effect of PCOS). (Grassi, 2020) Foods that are rich in magnesium and may help alleviate symptoms of PCOS include leafy greens, nuts, seeds, beans, whole grains, avocados, and chocolate. If you believe that you are deficient, you may discuss this with a physician and be prescribed a supplement in either the form of magnesium bisglycinate or magnesium glycinate. 
Cinnamon and cinnamon extract has been shown to improve fasting blood sugar, total cholesterol, LDL cholesterol, and triglycerides (all markers for heart health). (Grassi, 2020a) Since it does lower blood sugar and insulin levels, some people have experienced hypoglycemia (severely low blood sugar levels) from taking cinnamon extract so you should do so with caution. 
Zinc plays a role in changing testosterone into dihydrotestosterone. Having lower levels of testosterone can help reduce PCOS symptoms of acne, hair loss, and unwanted hair growth. If the diet is lacking in zinc, it may be beneficial to supplement with a multivitamin that has zinc in it. 
Vitamin D has been linked to fertility, insulin resistance, as well as mood and bone health. (Grassi, 2018) Healthy vitamin D levels can help to reduce some PCOS-related symptoms including insulin resistance, high androgen levels, and inflammation. Some food sources of vitamin D include salmon (sockeye), tunafish, fortified orange juice, yogurt (fortified with 20% of DV), egg (vitamin D is in the yolk), and fortified cereals. If you're unable to get enough vitamin D through your diet, you may consider a multivitamin that has 2,000-5,000 IU in it. (Grassi, 2018)
The majority of the suggested vitamins and minerals for improving PCOS symptoms (aside from cinnamon) will often already be found in a daily women's multivitamin.
**You should consult with your physician before starting any supplemental regimens. 
**As a reminder – supplements are NOT regulated by the FDA like medications – so if you decide to take supplements – make sure to go with a reputable company.  Find a company that does  third party  independent testing to prove what they say is in their product actually is (without stuff that's not supposed to be there).  Having the USP symbol is one way to show a supplement company does independent testing.
All in all, PCOS is a complex syndrome but it can be managed with nutrition and lifestyle changes. Making small changes can dramatically improve your symptoms and quality of life. I always recommend a food-first approach but if you're not able to get in enough nutrition throughout the day, supplements may help you meet your nutritional needs. 
If you prefer the food-first approach and have any questions about how to manage your PCOS naturally, feel free to reach out to me at tracey@myhealthybites.com or schedule a telehealth call with me at www.myhealthybites.com. 
Resources and References:
Golub, S. A., Cantor, A., & Smith, K. S. (2020). Polycystic Ovarian Syndrome (PCOS). Adolescent Nutrition, 631–662. https://doi.org/10.1007/978-3-030-45103-5_21
Grassi, A. (2018, February 7). 3 Major Roles of Vitamin D for PCOS. PCOS Nutrition Center. https://www.pcosnutrition.com/vitamind-pcos/
Grassi, A. (2020a, November 2). Spice Up Your Eating: Cinnamon And PCOS. PCOS Nutrition Center. https://www.google.com/url?q=https://www.pcosnutrition.com/cinnamon-pcos/&sa=D&source=editors&ust=1618334869077000&usg=AOvVaw13vcziw19n-giDme2EMdVM
Grassi, A. (2020b, November 14). Benefits of Magnesium for PCOS. PCOS Nutrition Center. https://www.google.com/url?q=https://www.pcosnutrition.com/magnesium/&sa=D&source=editors&ust=1618334869077000&usg=AOvVaw3S1qR5ZB0W7tvcSjp1Pagd
Klepchukova, A. (2020, April 14). The Dangers of processed food | 6 Refined products to avoid. Flo.health. https://flo.health/menstrual-cycle/lifestyle/diet-and-nutrition/dangers-refined-products
Pau, C. T., Keefe, C. C., & Welt, C. K. (2013). Cigarette smoking, nicotine levels and increased risk for metabolic syndrome in women with polycystic ovary syndrome. Gynecological Endocrinology, 29(6), 551–555. https://doi.org/10.3109/09513590.2013.788634
Shkodzik, K. (2020, April 23). PCOS Diet: Proven Diet Dos and Don'ts for PCOS. Flo.health. https://flo.health/pcos/pcos-diet
Author: Kyala Clegg MS, CSCS, CES – Dietetic Intern
Reviewed and Edited by: Tracey Soulia MS, RD, CDN, CDE – 4/17/2021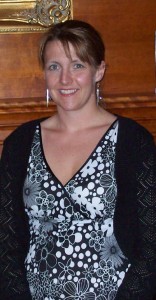 Tracey is a Registered Dietitian and Certified Diabetes Educator in Plattsburgh, NY. She enjoys cooking healthy recipes for her family, and loves involving her daughter in the process.  On her blog, she shares meal prep ideas, healthy recipes, nutrition tips and even gardening tips (to help you eat more whole foods).  Check out her social media sites for more great tips.