Turkey and Veggie Tacos: A Healthy Taco Recipe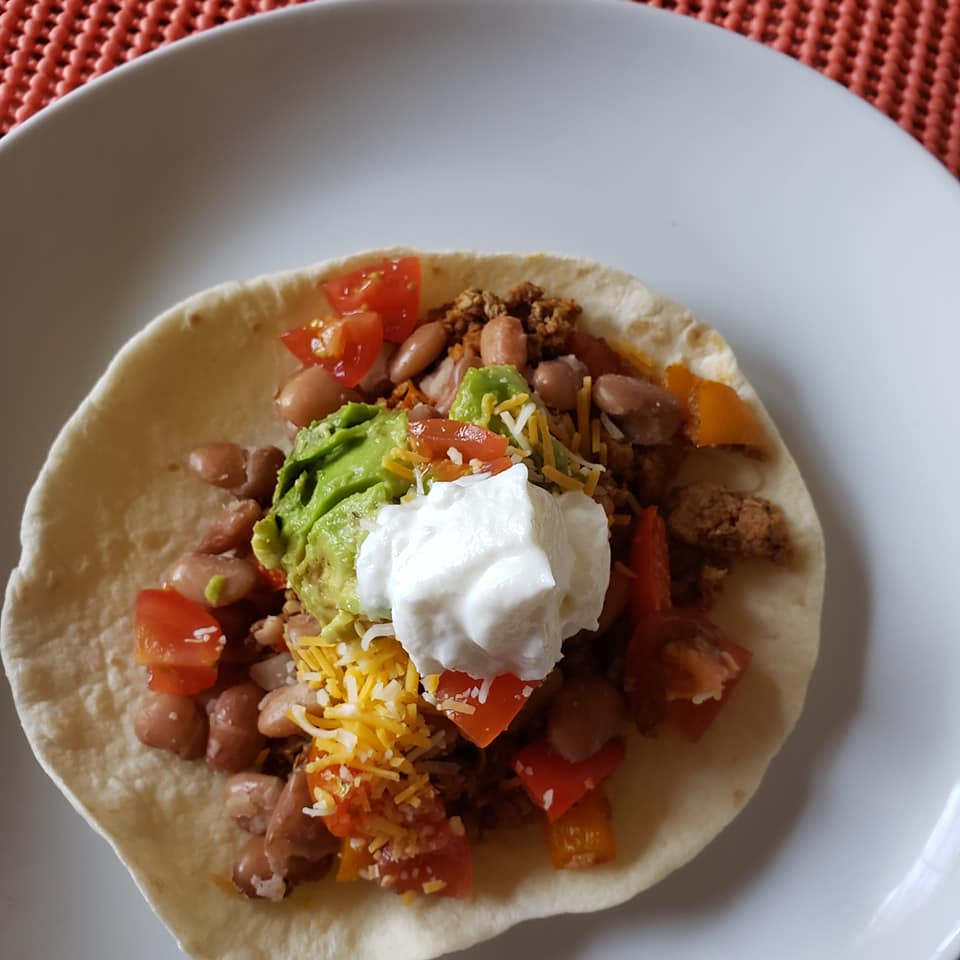 A Healthy Taco Recipe
It's Taco Tuesday – and Time for a Taco Recipe–
What? A Healthy Taco Recipe? Is that even possible?  Would you even want to eat a healthy taco? You will want to eat these!! They are delicious!
Tacos are a favorite in our house, and so I have heard many other houses as well. It's probably because they are soo versatile! You can make a taco sooo many different ways! I bet you could eat tacos for an entire month and not eat the same thing twice (maybe an idea for another blog post, lol).
Being a dietitian, I like to try to make recipes a bit healthier and still keep them super tasty. Dawn the advent of the taco bar – offer up lots of healthier toppings and let each person choose what they like.
The process of making a taco is pretty easy, another reason they are a beloved in many households. Who doesn't like a quick dinner.
Let's Talk Tacos
To make a healthy taco recipe, first thing first, lets talk taco shells. Some people love hard shells, others love the soft shells. Interestingly the hard shells tend to have less calories in them (in general).
If you are looking at soft taco shells, go with a 6 in taco shell vs. a 10 in – they will end up more the size of street tacos – much easier to pick up and prevent losing all the insides.  I love these Xtreme wellness tortillas– they are full of whole grains and only 50 calories each with lots of fiber. They are a little bigger than the 6 in taco shell. If you are gluten free, a hard shell is typically made of corn, or you could use the soft corn tortilla shells (make sure to always check the package to assure they are gluten free).
Next is the meat – we used ground turkey (93% lean) – it saves a lot of saturated "bad" fat and is better for your heart than traditional beef. You could also use ground chicken or make this a meatless meal by using the beans as the base of the taco – and leaving the meat out.
Then comes the mix-ins and toppings – a variety of veggies and beans. This is the part where you can really personalize the recipe, and there are a ton of possibilities. We used mix-ins of peppers and garlic (mix-ins meaning we cooked these with the meat). Toppings we used were pinto beans, avocado, lettuce Mexican cheese, tomatoes, and plain greek yogurt – but you could also use black olives, carrot shreds, zucchini shreds, broccoli shreds, any type of beans, corn, any type of salsa (this can really change up the flavor), change the heat level in the taco seasoning, etc.
The Process:
Brown the ground turkey, with the chopped peppers and 2 tsp avocado oil. You could definitely use chopped onions here too (we were out so our recipe didn't include them).
Prepare the toppings. I like to put them all out in bowls so that each person can use what they like. We chose avocado, lettuce, chopped tomatoes, pinto beans, and Mexican cheese. Olives would also be a great topping. Try to pick lots of veggies – it helps with the fill factor.
Instead of Sour Cream, we use plain Greek yogurt. This saves lots of fat, adds protein, and you get the same cool and creamy taste.
If you are feeling adventurous, and want to try making your own salsa, check out my recipe – it's delish on tacos, among other things!
Build your tacos, and enjoy! I'm guessing most of you know how to build a taco, but just in case. Get your shell on the plate, layer in the meat first, then add the toppings in the order you prefer. I know a lot of people that like to add the cheese on top of the meat so it gets melty – but if that's not your method, that's okay – there really isn't any right or wrong way to do this. There might be some less messy ways to build a taco, but really a messy taco is a fun taco (unless it lands on your white shirt, oye).

Ground Turkey and Veggie Tacos; a Healthy Taco recipe

Who ever heard of a healthy taco? Well here's one that is delish! Create a topping bar so everyone can pick their favorites - making this a family friend meal that's still quick! Who doesn't like that?

Equipment

skillet

cutting board

knife

oven

Ingredients

1

lb

ground turkey

90% or leaner

2

ea

bell peppers, colored

2

tsp

avocado oil

2

ea

garlic cloves

chopped

2

Tbsp

taco or fajita seasoning

1/2

C

lukewarm water

1

can

pinto beans

rinsed

1

ea

avocado

10

ea

cherry tomatoes

chopped

1/2

C

Mexican cheese

shredded

2

C

Lettuce mix

1/2

C

Plain Greek yogurt

10

ea

hard or soft taco shells

Instructions

In skillet, brown ground meat on med-low heat with Avocado oil and chopped peppers

When ground meat is mostly browned, mix in chopped garlic, taco or fajita seasoning, and water. Let simmer until water is mostly evaporated.

While the meat is browning, prepare toppings (chop tomatoes, rinse beans, wash lettuce, chop avocadoes, and place all toppings in bowls - including Mexican cheese and plain greek yogurt.

Wrap taco shells in tinfoil and warm in oven - following directions on package for warming (do this while water is evaporating from taco meat).

Once water is evaporated from taco meat - turn off. When taco shells are warmed, start to build tacos.

Notes

1 Serving (2 tacos ea) - was calculated using 2 hard taco shells (5" daimeter), 93% lean ground turkey, Old El Paso fajita seasoning mix, and plain non fat greek yogurt.

We used Cronometer to calculate Nutrition Facts

2 Hard Tacos = 455 calories, 29g protein, 36g Carbohydrate,  8.6g fiber, 23.3g fat , 7g saturated fat;

Additional Nutrients: 19%Calcium ; 2% Vitamin D, 81% Vitamin A, 14% Iron, 76% Vit C, 22% Folate.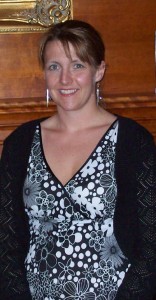 Tracey is a Registered Dietitian and Certified Diabetes Educator in Plattsburgh, NY. She enjoys cooking healthy recipes for her family, and loves involving her daughter in the process.  On her blog, she shares meal prep ideas, healthy recipes, nutrition tips and even gardening tips (to help you eat more whole foods).  Check out her social media sites for more great tips.