Slow Cooker Stuffed Pepper Soup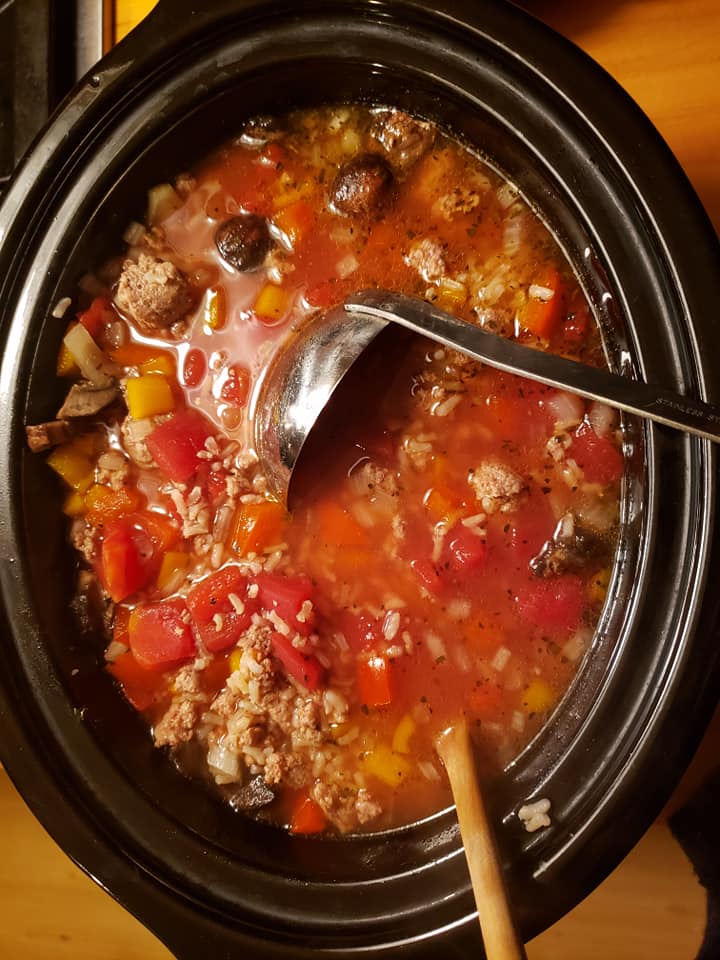 It's a cool fall day here in northern New York.  There's not much better on a cool day than making something in the slow cooker.   Today I am making slow cooker stuffed pepper soup, a family favorite!  If you like stuffed peppers, this recipe is a fun play on them.  It really is the ingredients in a stuffed pepper turned into soup!  You can make it on the stove too (if you want to)- but throwing it together in the morning, and coming in to dinner done (and the amazing smell) just makes me happy!  The think I really like about this recipe is you can throw in what you have… have mushrooms, throw them in… carrots, throw them in… whatever you like – personalize it!
I have been making this recipe for awhile, and tweaking it here and there to suit my family's taste (and for health benefits) and this is my favorite version!  I've added and changed a few things from the original version (which I linked to below the recipe).
We typically add the rice in last – my daughter is not a rice fan – but loves veggie noodles – so we always save her a portion and put noodles in it.  It can be personalized!  I hope you like it as much as we do!  Enjoy!
*Vegetarian Option –
You could easily make it vegetarian by using tofu crumbles and using the vegetable broth – I have not tried it with tofu crumbles – but in theory it should work!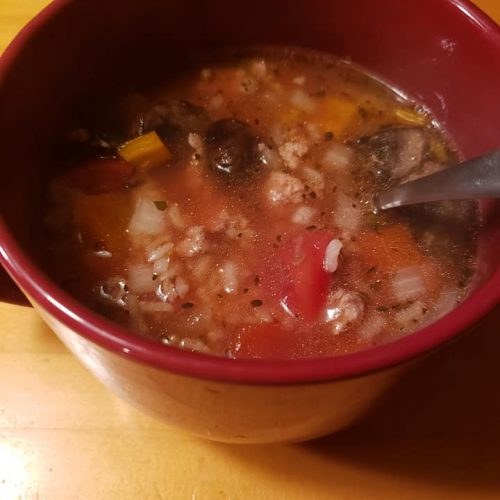 Slow Cooker Stuffed Pepper Soup
This is a fun play on stuffed peppers - turned into soup. Delicious on a cool day - to help you warm up inside and out.
Ingredients
1

lb

93% ground turkey

28

oz

diced tomatoes

can be plain or with garlic or basil

1

medium

onion

2

medium

peppers

I like to 1 green, and the other either red, yellow, or orange

3

c

chicken broth

could also use beef or vegetable broth

1

tsp

minced garlic

1/2

tsp

basil, dried

1/2

tsp

dried oregano

4-5

ea

muchrooms

chopped

1

C

cooked rice

*you might be tempted to add more, however - it will soak up your broth - and you won't have soup anymore.
Instructions
1. Saute onion, and brown ground turkey in same skillet (medium low heat) - and place in slow cooker.
2. Add all additional ingredients (besides rice) to 4 qt slow cooker.
3. Cook on low for 6-8 hours (covered).
4. When soup is almost finished , cook up rice - and add just before serving.
Video
Notes
*adapted from one of our favorite slow cooker recipe websites - Recipes that Crock
*While it is tempting to want to add in more rice (we often do the boil in the bag rice, and it makes more than 1 C) - this will absorb all your broth - and you will no longer have soup. 
*You could use Italian seasoning in place of basil and oregano if you don't have one of them. 
If you are looking for more soup recipes, check out our Roasted Vegetable Chicken Noodle Soup – it's delish!
This recipe was adapted from on of our favorite slow cooker recipe websites – Recipes that Crock – Stuffed Pepper Soup
*For more warm and satisfying recipes that keep you filled – you might also like our Baked Oatmeal Recipe.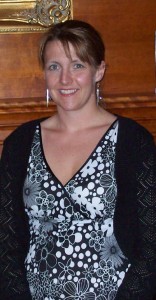 Tracey is a Registered Dietitian and Certified Diabetes Educator in Plattsburgh, NY. She enjoys cooking healthy recipes for her family, and loves involving her daughter in the process.  On her blog, she shares meal prep ideas, healthy recipes, nutrition tips and even gardening tips (to help you eat more whole foods).  Check out her social media sites for more great tips.