Tropical Mango Protein Smoothie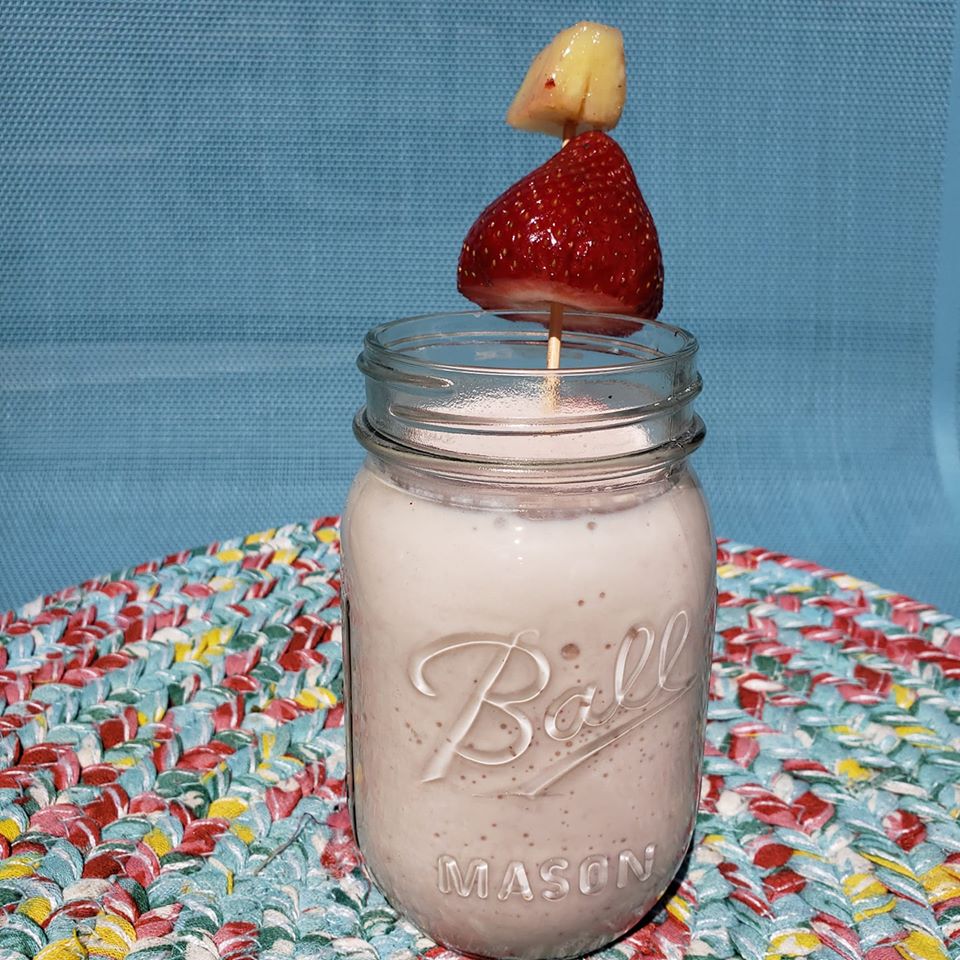 It's  finally warming up in Northern NY, and that has me thinking about summery types of foods and drinks – like this tropical mango protein smoothie.  I love smoothies in the warmer weather.  They are great way to take in nutrition in the warmer months, even if you aren't feeling as hungry as normal or just want something that will help cool you down.  This tropical Protein Smoothie is one of my favorite breakfasts in the warmer summer months.  I can get in some fruit, protein, fiber, and calcium along with a bunch of vitamins and minerals – and it's cool and easy to drink.  It tastes like a tropical drink (ahhh, pretend you are on the beach – even if you have to run out the door to work).
 People love Smoothies…
Smoothies are popular in part because they are easy, and this recipe is no exception.  It can be put together in about 5 minutes!  You will need a blender to really chop the fruit up – I like the type that has the single cup you can blend in (saves on clean up – and you are out the door with your on the go cup).  I currently have a Ninja brand blender, and I love it!   It does a great job at really grinding up the frozen fruit.    I have also had the Magic Bullet in the past, and that worked well also – like I pretty much wore it out!  The only thing the Magic bullet didn't do so well was if I tried hard vegetables, like carrots.  The Ninja brand definitely outperforms the Magic bullet with carrots and other hard to chop veggies.
The great thing about this smoothie is there aren't a ton of ingredients.  If you don't love the fruits I have used, you can easily change them up.   You can also make some substitutions if you are trying to avoid dairy – a dairy free yogurt, and a dairy free milk should work (you will have to add some protein powder that is dairy free also to get the protein punch – I like Orgain brand protein powder).
Tips on Smoothie making:
It probably doesn't seem like you should need tips to make a great smoothie, because they are sooo easy.  I have made hundreds of smoothies, and along the way I have found some things that just help them work better – so I will share.
Keep It Cold
A Cold Smoothie is just better- it's what gives the smoothie that frothy yumminess.  I suggest frozen fruit.  It doesn't have to be ALL frozen fruit, but at least part of it should be frozen.  If you have all fresh fruit – then add some ice cubes – smoothies are much better cold.  In the Tropical Mango Protein Smoothie, we used a tropical fruit combination of mango, strawberries, and pineapple.

Blender Help

Try to initially keep the frozen fruit away from the blades.  I had my previous blender jam several when I put the ingredients in so that the frozen fruit was right next to the blade.  Now I arrange it so the blender blade will hit the yogurt, and milk first, and work it's way through the fruit.  It saves headaches of having to clear out the blades.  I don't think this would be an issue with the Ninja blender, but it definitely was with my previous blender – so especially if you have a less powerful blender – heed this advice.
I don't suggest filling past the fill line.  It usually results in the contents leaking out around the sides when you put the blender blade on (in the single cup versions) – then creates a bit mess to clean up after blending.  I may have done this a time or 20 – and really, it's not fun.

All About Bananas

Bananas get sweeter as they ripen – making them PERFECT to sweeten your smoothie.   If you have bananas that are about to go bad, or are more ripe than you would normally eat – DO NOT throw them away.  Peel them, break them in half, and place on a sheet pan to freeze.  Once they are frozen, put them in a gallon bag in your freezer.  These are perfect add ins to your smoothies (or banana bread if needed) – and it was just going to be garbage, or mulch.  It helps you not need additional sweetner from sugar or honey, etc.  You can certainly use fresh bananas in your smoothies as well.
You don't have to slice the banana, but if you are using the single serving cup to blend it, it just helps things fit in better. It's up to you if you want to wrestle with the banana and yogurt or not. I prefer not.

Have Fun with It – Get Creative

6. There are sooo many ways to make a yummy and healthy smoothie.  Just experiment – try adding in spinach (you really cannot taste it – but it packs in more nutrition), try different types of frozen fruits – you can make hundreds of taste combinations.  You can also add in things like chia seeds, ground flax, hemp, cinnamon, etc for more flavor and nutrition.
Nutrition and Diabetes with Smoothies
I love smoothies because they can pack a nutritional punch.  They can also be a sugar bomb – depending on how you make them!  If you are diabetic or watching your carb intake, be careful of how much fruit you add.  Fruit is healthy for you – but a lot of fruit can add the up in carbohydrates (and it can be easy  to make a smoothie out of a lot more  fruit than you might typically eat).  I often tell my diabetic clients, only 1/2 banana, and no more than 1/2 cup frozen fruit in the smoothie.  Also, juice will make the carbs and sugars (natural) climb, and can really impact blood sugar levels, so we use milk instead – alternative milks like almond, soy, etc work great as well (and the unsweetened type often have less carbs than regular milk, but they often don't have the protein).   Use plain greek yogurt – any type of flavored yogurt (even vanilla) will have added sugars – and just increase the carbohydrate content.  This recipe (as written) has 37g of Carbohydrate (plus 27g protein).
For someone who is diabetic, this would usually be appropriate for a meal, but too high in carbohydrate for a snack.
Hope you enjoy the Tropical Mango Protein Smoothie, and the warmer weather!
*Please note that the links to products are Affiliate links.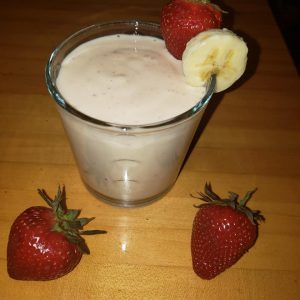 Tropical Protein Smoothie
A cool drink that packs a punch with nutrition - use as a breakfast or afternoon snack.
Ingredients
1/2

C

Tropical frozen fruit

we used a mango, stawberry, pinapple mix

1/2

ea

banana

over-ripe work well

1

c

plain greek yogurt

nonfat

1/4

c

milk

we used 1%
Instructions
If you have a single serve cup for your blender - add in frozen fruit first, then banana, milk, and finally yogurt.

If you are using a pitcher type blender - add yogurt first, then milk, then banana, and lastly frozen fruit

Blend until here are no chunks.
Notes
*Nutrition facts calculated with Cronometer: 
1 Recipe - 1 Serving = 270 kcals, 27.7g protein, 37g Carbohydrate, 26.9g sugar, 0g added sugar, 2g fat, 0.7g saturated fat,   116 mg Sodium, 3.5g fiber, 
36% Calcium (361 mg) , 21% Vitamin A, 
2.5 Carb Servings
*Gluten Free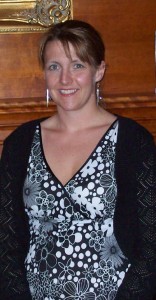 Tracey is a Registered Dietitian and Certified Diabetes Educator in Plattsburgh, NY. She enjoys cooking healthy recipes for her family, and loves involving her daughter in the process.  On her blog, she shares meal prep ideas, healthy recipes, nutrition tips and even gardening tips (to help you eat more whole foods).  Check out her social media sites for more great tips.