Battle of the Sugar Bulge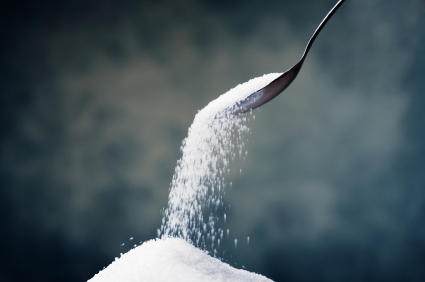 Mmmm, sugar – that yummy stuff that makes things sweet! Well, it may be doing a lot more than sweetening your foods. Recent research shows that added sugars (those not naturally occurring in foods) may be a part of what's expanding many Americans waistlines to go along with the increased risk of type 2 diabetes, gout, heart disease, high blood pressure, and high triglycerides that also comes with eating too much sugar.
A lot of the research so far has focused on sugar sweetened beverages, and for good reason. First, they are the leading contributor of added sugars in our diet (a 12 oz. of soda can have 10 tsp of added sugars)! Second, our bodies tend to not compensate for liquid calories – meaning it doesn't register calories from beverages, so you will eat just as many calories as if you didn't drink the beverage . Our bodies do compensate for sugary food calorie intake, and we will likely eat less calories later if we eat sugar rather than drink it. Either way you take it in, added sugars have little nutritional value, they lack vitamins, minerals, protein, antioxidants and phytochemicals – but add plenty of calories (which is the bottom line in weight gain – calorie intake).
22 to 28 teaspoons – that's what the average American is consuming everyday (added sugars). The American Heart Association recommends that women take in no more than 6 teaspoons of added sugar a day, and men, 9. We are WAY over our limits! Sugar is added to many of our foods; you probably have no idea how many foods its added to because many of them don't even taste sweet. The foods that are sweet, well there's even more in those. Obviously there is added sugar in soda, fruity drinks, sports drinks, pastries, ice cream, candy etc. Those are obvious (and the list goes on and on) because they taste sweet. But what about the foods that aren't all that sweet – like cereal (even the high fiber and low calorie types), granola bars, fruited yogurts, even bread! Manufacturers are adding sugar to just about everything! Even foods that would be naturally sweet from fruit – manufacturers will add additional sugar to those foods to appeal to customers (because lets face it, we Americans have developed quite a sweet tooth).
Sugar naturally occurs in fruit and milk products. Researchers don't appear to think that consuming these natural sugars in their natural form is a problem (as long as you are not already a diabetic that is). However, when you drink fruit juice, you have taken away the fiber of the fruit, and now the sugar is very concentrated – and does increase the risk of diabetes if you drink too much. The recommendation is no more than 1 cup per day of fruit juice. If you eat fruit in its natural form, the fiber seems to decrease that risk of diabetes. Research has shown, however, that fructose (fruit sugar) when added to foods can cause belly fat (the deep visceral stuff that leads to disease). This does not mean that adding a banana to your cereal in the morning will add belly fat – food manufacturers can make fructose and add it to foods that it is not naturally in, this is when there is a problem.
What about a food like yogurt, there will be natural sugars from the yogurt and fruit. It becomes difficult to tell how much of the sugar is natural, and how much is added because they don't break them out individually on the food label – it just says sugars (which encompasses both natural and added sugars). This is where you have to be a savvy label reader. Look down under the ingredients for words that mean sugar (here are some):
Brown sugar

Cane crystals

Cane sugar

Corn sweetener

Corn syrup

Crystalline fructose

Dextrose

Evaporated cane juice

Fructose

Fruit juice concentrates

Glucose

High-fructose corn syrup

Honey

Invert sugar

Lactose

Maltose

Malt syrup

Molasses

Raw sugar

Sucrose

Sugar

Syrup (any type)
(list adapted from Dietary Guidelines for Americans)
If you have a food that doesn't have milk or fruit, then the number for sugars should be all added sugar. To figure out how many teaspoons you are getting, take the number of grams of sugar and divide by 4 (every 4 grams of sugar is 1 teaspoon of added sugar). So a 12 oz can of soda that has 40 grams of sugar will be the equivalent of 10 teaspoons of added sugar (more than anyone is suppose to have in one day).
The American Heart Association offers the following tips for reducing your sugar intake:
Tips for Reducing Sugar in Your Diet:


Take sugar (white and brown), syrup, honey and molasses off the table — out of sight, out of mind!

Cut back on the amount of sugar added to things you eat or drink regularly like cereal, pancakes, coffee or tea. Try cutting the usual amount of sugar you add by half and wean down from there, or consider using an artificial sweetener.

Buy sugar-free or low-calorie beverages (water is great, you can add a slice of fruit fro added flavor).

Buy fresh fruits or fruits canned in water or natural juice. Avoid fruit canned in syrup, especially heavy syrup.

Instead of adding sugar to cereal or oatmeal, add fresh fruit (try bananas, cherries or strawberries) or dried fruit (raisins, cranberries or apricots).

When baking cookies, brownies or cakes, cut the sugar called for in your recipe by one-third to one-half. Often you won't notice the difference.

Instead of adding sugar in recipes, use extracts such as almond, vanilla, orange or lemon.

Enhance foods with spices instead of sugar; try ginger, allspice, cinnamon or nutmeg.

Substitute unsweetened applesauce for sugar in recipes (use equal amounts).
Related Articles & Resources: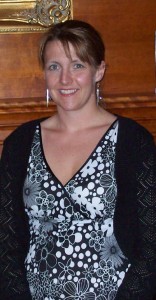 Tracey is a Registered Dietitian and Certified Diabetes Educator in Plattsburgh, NY. She enjoys cooking healthy recipes for her family, and loves involving her daughter in the process.  On her blog, she shares meal prep ideas, healthy recipes, nutrition tips and even gardening tips (to help you eat more whole foods).  Check out her social media sites for more great tips.