Chocolate Chip Apple Cake
This is my first blog, so bare with me
The weather has changed drastically in the Northern NY over the past couple of days (Like a drop of 40 degrees or so), and needless to say it certainly feels like fall! Although I am sorry to see the summer go, fall brings a whole host of new foods that are available to cook with, and a reviving effect in me to bring out the soup and stew recipes. So today I am cooking up some Chicken Noodle Soup, and Chocolate Chip Apple Cake. Both recipes use great ingredients that are freshly available this time of year from local orchards and farmers' markets. I love using local, fresh produce; it makes me feel good to support the local economy and know where my food is coming from.
Chocolate Chip Apple Cake
This recipe was passed down from my mom. Baking it makes me think of having it as a kid on a cool fall day. I have changed the recipe to make it a bit healthier (but still maintain that yummy taste). I hope that you enjoy the recipe as well!
Ingredients:
2 eggs
1 C sugar
1/2 C Apple sauce (unsweetened)
1/2 C semi sweet chocolate chips
2 C white whole wheat flour
1 tsp cinnamon
1 tsp baking soda
2 tsp vanilla
3 C coarsly diced pared apple (about 3 apples)
Directions:
1.Preheat oven to 325 degrees.
2. In a large bowl, beat together eggs and sugar. Blend in applesauce, vanilla and chocolate chips.
3. Sift together flour, cinnamon, and baking soda & add to ingredients in the bowl.
4. Peel, core, and dice apples. Fold in to batter and stir.
5. Spread batter evenly in a greased 13″x9″ baking pan. Bake 55 min or until done. Cool completely in pan on wire rack. Cut into squares to serve. Serves 20.
Nutrition Analysis (done by Mastercook 11)
1 piece = 1/20th of recipe:
Calories 127
Total Fat 2g
Sat Fat 1g
Cholesterol 21 mg
Sodium 71 mg
Total Carbs 26g
Dietary Fiber 2g
Protein 3g
Calcium 11mg
Iron 1mg
Zinc 1 mg
Diabetic Exchanges
1/2 Starch bread
1 Other carb
1/2 Fat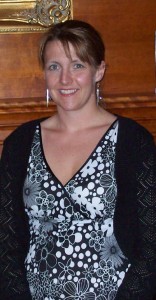 Tracey is a Registered Dietitian and Certified Diabetes Educator in Plattsburgh, NY. She enjoys cooking healthy recipes for her family, and loves involving her daughter in the process.  On her blog, she shares meal prep ideas, healthy recipes, nutrition tips and even gardening tips (to help you eat more whole foods).  Check out her social media sites for more great tips.