Kick Off the New Year…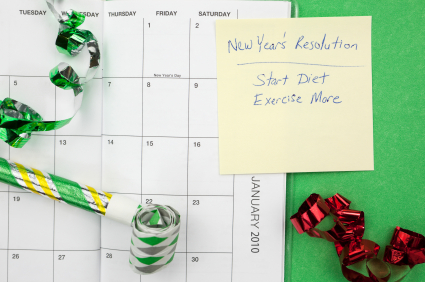 Happy New Year! With a New Year often comes resolutions or plans for a New YOU, in one way or another. Resolutions often include some plans to get healthier. Whether you have decided to started exercising, eat healthier, lose weight, lower your cholesterol, etc. you have a goal in mind. Goals are wonderful, they give us a sense of direction. Here are some tips to help you meet your health goals for 2012, and be the New and Healthy YOU that you are striving to be!
Lay out a realistic path to get to that goal (this is where many of those New Year's resolutions fall down). Once we set a goal, we want to get there as quick as possible. Like racing down a road at top speed, the faster you go with health goals, the less likely you are to make it to the goal safely (or at all). No one likes to hear slow and steady – but in fact its the truth – slow and steady wins the race. Those health problems didn't come on over-night, and they will not safely go away that quickly either. Of course there are hundreds (maybe thousands) of health gimmicks out there telling you differently… but think about it, if they really worked wouldn't everybody be doing them by now (and in the best shape of their life). Skip the magic cure-all pill, because just like magic – it's a trick. Oh, they may work… but it will probably be temporary, and the cost to your health may be high!. Take the slower course that leads to lasting change, and what you ultimately want – to meet your goal and stay there!
Don't make too many changes all at once. When I work with clients, we usually pick 1-2 mini-goals and work on – making those changes for about 1-2 weeks before moving on to new mini-goals (toward the larger Goal). Making too many changes all at once makes it feel very hard – often impossible, and people often give up. Small changes are the way to go, work on them for a couple of weeks until they become a "good habit", and then you will continue them easily as you move to the next hurdle in your journey.
Find a support system. Often when we are making health changes, there seems to be someone who is trying to sabotage you (maybe not intentionally – you know the person that keeps offering you the donuts, leaving chocolate on your desk, encouraging you to get the unhealthy meals when you go out to eat, your aunt who thinks you look wonderful and don't need to lose any weight even though the doctor told you differently…). You need to find a person or a group of people who not only support your goal, but are willing to help you along the way, listen when you need an ear, and may even offer some helpful solutions when you hit a road-block. If you have a significant other, this would be a great person to enlist. Since you spend so much time with them, they could be a great source of support. Make sure to have a talk with this person, and let them know what you want to do and why it is so important to you. If you're significant other is not on board, then find a close friend – maybe even someone who wants to make a similar change so you can go through it together!
Write down some realistic changes that you are willing to make. Making this list will help you figure out what you can change (not all at once, but you'll work toward a couple of them at a time), and what is absolutely non-negotiable. If you are absolutely not willing to give up one thing or another, then work on other goals that you are willing to do; maybe down the road you will change your mind about that non-negotiable item or be willing to cut back on it (or start doing it, whatever the case may be). On the other hand maybe you will reach your goals through the other changes you are making. The list will be a starting point to get going. You may add to it later as you go.
As an example a client who is trying to make changes to lose weight and get healthier may set beginning goals like these to work on for the first week or two: 1. Drinking More Water 2. Start exercising 3-4 days a week for at least 15 minutes.
Once you have done these things, you will be have a great start on meeting those New Year's Resolutions! Best of luck in the New Year, and of course if you need some one-on-one Nutrition advice, healthy cooking classes, help at the supermarket, etc, come see me!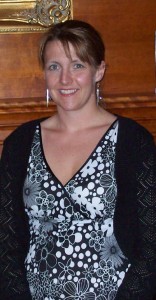 Tracey is a Registered Dietitian and Certified Diabetes Educator in Plattsburgh, NY. She enjoys cooking healthy recipes for her family, and loves involving her daughter in the process.  On her blog, she shares meal prep ideas, healthy recipes, nutrition tips and even gardening tips (to help you eat more whole foods).  Check out her social media sites for more great tips.