Turkey Day Safety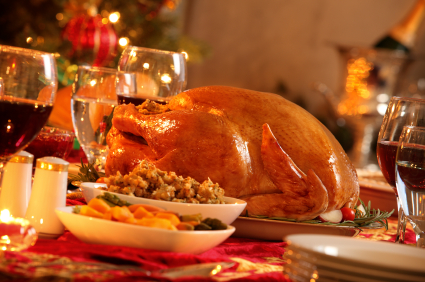 It's almost TURKEY TIME!
There's nothing like enjoying a fantastic meal with some of your closest family and friends. You certainly would not want to end such a great day with a case of food poisoning (or even worse having your guests get sick). You might think, "whatever – that would never happen to me" or "I've been doing this for years, what I do is fine", but the truth is, it might not be fine this time (even if you've done it dozens of times before). Older adults, children, pregnant women, and anyone with a compromised immune system are at a higher risk for contracting food borne illness from improperly handled foods. To help keep the big day "safe" (and hopefully food poisoning free) here are a few turkey day pointers to keep in mind as you prepare for the big event.
This may need to be started days before the big event, depending on the size of your turkey, so make sure to plan ahead! Safe ways to thaw the turkey include in the refrigerator (or a cold garage or porch that stays below 40 degrees the entire time the turkey is thawing) -the recommendation is 1 day for every 4 lbs of turkey (so a 16 lb bird would take 4 days). If you use the refrigerator, make sure you put the turkey on the bottom (you don't want raw turkey drippings on any other foods, that could really make someone sick!) Another safe way to thaw the turkey is in cold water – the water must stay at 40 degrees or below (so you may need to change it or add ice on a regular basis – every 30 minutes is recommended), and the whole turkey should be submerged – this method is faster ~30 minutes per pound.
Do Not Thaw at room temperature, or allow the temperature of the water or air to go above 40 degrees, anything above 40 degrees and it is in the "danger zone" or the temperature zone where bacteria reproduces on your bird rapidly (bacteria that could make you and your guests sick later).
Yum, a favorite side dish for the holiday! To keep it safe you should NOT put it in the bird! Stuffing in the cavity of a turkey sits in the "danger zone" for an extended period of time, and often never gets hot enough to kill bacteria. Stuffing should be cooked separately from the turkey (in its own dish). If you love the flavor the turkey gives the stuffing, and think it is bland without putting it in the bird, then its time to try a new stuffing recipe.
Make sure that everything that needs to be refrigerated can fit into the refrigerator until it needs to be served (or cooked, or re-heated). You can also keep things in a cold garage or porch (just make sure it is a secure area, and that it is covered– so that dogs or other animals cannot find their way to your food).
All those goodies that you serve throughout the day before the big meal are a great crowd pleaser. Just make sure that anything that requires refrigeration does not sit at room temperature for more than two hours at a time (cheese, dips, shrimp, etc.)
Avoid Cross-Contamination:
Turkey day can be busy, and even a bit stressful if you are the cook! Be careful with utensils, cutting boards, and surfaces that you are working on. Make sure you don't prepare something that is potentially hazardous (like raw turkey), then use the same utensil or work surface to prepare something that is going to be served as is (cheese, raw veggies, etc). If the juice from the meat or other hazardous food item gets on the ready to eat food (cross-contamination), it can be a food safety disaster! Keep your utensils and work surfaces clean (hot water and soap), and be careful not to cross harmful foods with those that are ready to serve.
Don't rely on that pop up thermometer (or you own intuition) to tell you when the turkey is done. Even the directions on the package can be a bit off if you have the turkey covered in the oven or at a different cooking temperature than suggested. Large turkeys can take quite a bit of time to cook, so make sure that you plan ahead, and allow enough time! The most accurate way to make sure your turkey is done (so that it is safe to eat) is to check it with a meat thermometer. You want to temp the meat in the thickest parts, and in multiple locations (to assure it's cooked throughout) – at the breast – push the meat thermometer in until you hit bone, then pull it back out about an inch – this is the thickest part of the meat. Also check the meat at the wing, and the thigh (in the thickest part of the meat) – the temperature should read 165 degrees in each location.
This might be the best part! Make sure they are safe by refrigerating them within 2 hours after coming out of the oven. If there are a lot of leftovers, store them in shallow containers as they will cool down faster to 40 degrees or below.
I hope these tips have been helpful to you! Have a Safe and Happy Turkey Day!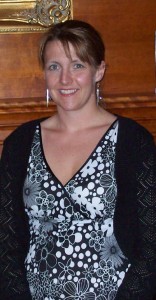 Tracey is a Registered Dietitian and Certified Diabetes Educator in Plattsburgh, NY. She enjoys cooking healthy recipes for her family, and loves involving her daughter in the process.  On her blog, she shares meal prep ideas, healthy recipes, nutrition tips and even gardening tips (to help you eat more whole foods).  Check out her social media sites for more great tips.