Power Up your Breakfast with Protein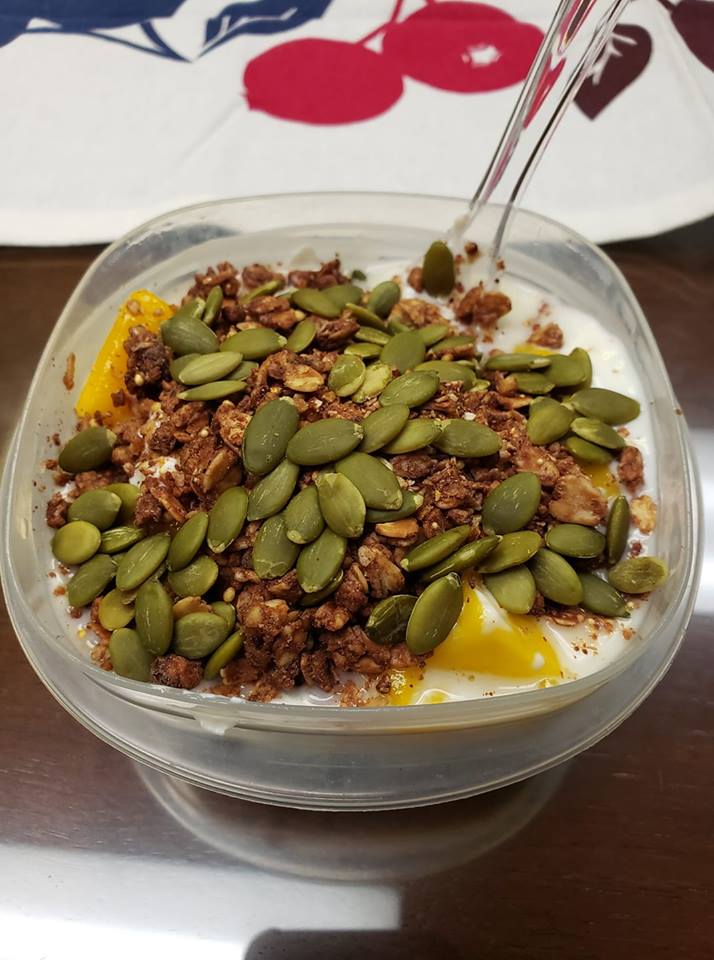 Some studies suggest a high protein breakfast can help maintain blood sugar control, and control cravings for carbohydrates and sugar throughout the day.  It may even help people take in less calories throughout the day, and possibly speed up metabolism.
The Benefits of Protein at Breakfast
In one study, "University of Missouri researchers compared the benefits of consuming a normal-protein breakfast (cereal and milk ~ 13g protein) to a high-protein breakfast (~35g protein from eggs, lean pork) and found the high-protein breakfast prevented gains of body fat, reduced daily food intake and feelings of hunger, and stabilized glucose levels among overweight teens who would normally skip breakfast" (1)
Eating a high protein breakfast helps prevent a blood sugar crash mid-morning – which often results in hunger.  "Protein also helps you feel full. This is because it activates the body's signals that curb appetite, which reduces cravings and overeating.  This is mostly due to a drop in the hunger hormone ghrelin and a rise in the fullness hormones peptide YY, GLP-1 and cholecystokinin"  (3)  This combination may help with taking in less calories.
One study showed that " ingested calories are apparently utilised more efficiently in the morning than in the evening and this is manifest through improved weight loss" (2).  There is a whole body of research around timing of nutrition and calories and how this plays a role on metabolism – it's pretty interesting.    This brings us back to the old saying "eat like a king at breakfast, a queen at lunch, and a pauper at dinner – basically take in more of your calories earlier in the day.
Breakfast Skippers/Low Protein Breakfasts: The Fallout
There is a significant portion of Americans (and my clients) that skip breakfast.  What I hear time and time again is "I just don't have time" or "my stomach cannot handle eating that early" or "I'm not hungry that early in the morning".  Unfortunately skipping breakfast doesn't seem to be in their benefit.    Others are stuck in the typical American breakfast pattern of high sugar/carb choices like toast or a bagel,  pancakes with syrup, cereal with milk, just fruit, a muffin of some sort.  While some of these options aren't necessarily unhealthy – they may not be helping you reap the benefits you are hoping for.
"Increased risk of obesity and related health conditions has been associated with breakfast skipping and late night feeding indicating morning energy intake may have substantial health benefits.  Breakfast skipping has also been correlated to lower levels of physical activity and increased sedentary leisure time" (2)  Correlation certainly does not mean causation – this may be because those that choose to skip breakfast have poorer health habits overall, than those that generally choose to eat breakfast.  However while more research needs to be done – the possibility is that eating breakfast could lead to more activity throughout the day.
While the science is interesting – I always like to see how this works in real life.  I have been recommending a higher protein breakfast for some time to clients.  Those that make the change report feeling more full throughout the morning and increased energy.  It also often helps to curb late night snacking (not for everyone, this often comes back for the reason behind the snacking – but it helps many!)  Those changes occur even at 20 g of protein for breakfast – but the latest research is showing that 30-35g of protein in the morning is optimal to provide all the benefits above.
Getting in 30g of protein at breakfast may sound challenging – but it doesn't have to be that hard.  It might not be the typical American breakfast of cereal and milk, or grabbing a muffin and coffee though.  Here are some ideas to get you started…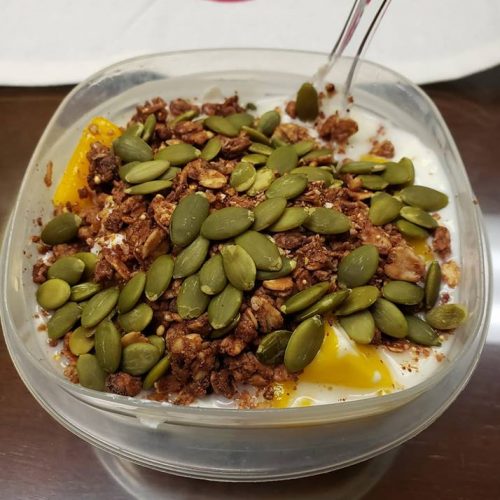 Fruit and Yogurt with Granola
This is one of my favorites! Protein packed breakfast with Greek Yogurt, protein granola (chocolate), pumpkin seeds, and mango
Ingredients
1

C

Plain Greek Yogurt, non-fat or whole milk

2

Tbsp

Pumpkin Seeds

1/3

C

Kind Granola

1

C

Strawberries or Mango
Instructions
Put greek yogurt into a bowl, layer additional ingredients to your liking
Notes
Nutrition Facts:  (with 1C strawberries )30g pro, 365kcals (for non fat yogurt), 435 kcals (for whole milk yogurt) 40g Carbohydrate
with Mango 1/2 C: 29.5 g protein; 380 kcals (for non fat yogurt), 450 Kcals (for whole milk yogurt; 46 g Carbohydrate
Breakfast Sandwich (or Omelette)
Ingredients
2

ea

Eggs

12 g pro

1

ea

egg white

3.6g pro

1

ea

English Muffin, whole grain

5 g Pro

½

ea

avocado

1 g pro

2

slices

canadian bacon

12g pro
Instructions
Cook eggs to your liking (you can scramble, poach, fry, or make into an omelette). You can fold up eggs or stack eggs and place on top of the english muffin OR serve eggs on side and eat english muffin separately. Cook baon in a pan until slightly browned on both sides (low to med heat), and place on top of eggs; slice avocado on top of canadian bacon.
Notes
Nutrition Facts:  486 kcals; 30g Carbohydrate, 33g Protein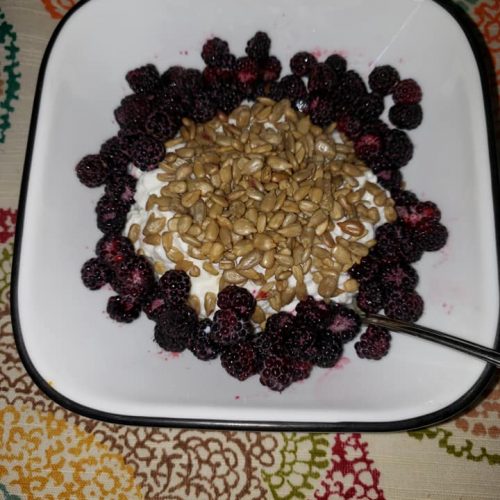 Cottage Cheese, Fruit, and Seeds
High protein breakfast with cottage cheese, sunflower seeds, and black raspberries
Ingredients
1

C

1% Cottage Cheese

2

Tbsp

sunflower seeds

unsalted

½

C

Raspberries
Instructions
Place cottage cheese into a bowl, top with sunflower seeds and raspberries
Notes
Nutrition Facts: 31.5g Protein; 307 Kcals, 20.5g Carbohydrate
Chocolate PB Banana Overnight Oats
If you like your oatmeal (which is typically a lower protein option for breakfast) - here is a recipe to up the protein.
Ingredients
½

C

Raw Rolled Oats

½

C

1% milk

3

Tbsp

PB Fit Plus

¼

C

Plain Greek Yogurt

½

each

Banana
Instructions
Directions: In a pint size mason jar add oats, milk, and PB Fit Plus and mix. Add Greek yogurt (do not stir in, let sit on top) – let sit in fridge over night. In morning, when ready to eat, chop banana into mason jar, then stir all together – enjoy!
Directions: In a pint size mason jar add oats, milk, and PB Fit Plus and mix. Add Greek yogurt (do not stir in, let sit on top) – let sit in fridge over night. In morning, when ready to eat, chop banana into mason jar, then stir all together – enjoy!
Notes
Total 34g Protein, 61 g Carbohydrates, 373 calories
*To lower carbs, try different type of fruit - 1/2 C berries AND use unsweetened almond milk - total would be ~ 50g carb, and 30g protein 
*These will keep in the refrigerator for ~ 3 days - so you can prep ahead.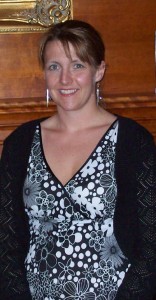 Tracey is a Registered Dietitian and Certified Diabetes Educator in Plattsburgh, NY. She enjoys cooking healthy recipes for her family, and loves involving her daughter in the process.  On her blog, she shares meal prep ideas, healthy recipes, nutrition tips and even gardening tips (to help you eat more whole foods).  Check out her social media sites for more great tips.